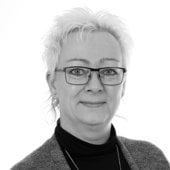 Charlotte Björck
Consultant – Customer Consulting
How long have you been with IST?
Since November 5th 2018, though, it feels like I´ve just started – time is really running fast.
What is your background?
Before joining IST I worked as school administrator/partly sys-admin with Extens/Dexter, first 6 years at Frykenskolan (elementary school) and just before joining IST I worked a couple of months at Stjerneskolan (upper secondary school) in Torsby, northern Värmland, where I live. Before that I had the responsibility as financial officer at a driver training company (Förarutveckling/Car Experience), and before that as operations manager at Swedens first indoor skiing arena (Torsby skidtunnel). I have also been working at some different companies such as automotive importer (head of staff training and deputy marketing manager), organization of web based training company (project manager/administrator), sports marketing company (producing advertising material)…and…and, yes, I´m not aged 25 any longer 😊
Tell us what you like best about your job?
Meeting a lot of people in different educational situations. Understanding the different challenge in each different municipality organization and help the staff feeling confident in their handling of IST applications. And last but not least - all nice and welcoming people working at IST!
What is your "Learn More"?
All different IST applications that are new to me of course, but besides that I really like to communicate, so I would love to have time to learn different languages. I´ve been studying Latin, have tried studying Japanese and I would be curious to understand for example Arabic or Russian. Wouldn´t it be interesting to directly hear what presidents and other persons really say, instead of having it translated by different TV channels etc? 😊