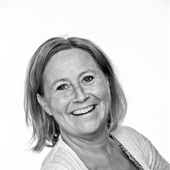 Birgitta Hallsten
Receptionist – Corporate Services
Birgitta Hallsten
Receptionist, Business Support, Växjö Sweden
For how long have you been here?
I started in 2009.
Tell us short about your background.                                                   
After finishing upper secondary school I started working. Before joining IST in 2009 I worked at Televerket/Telia for 20 years in their Customer Support. 

Tell us what you like best about your job.
The best thing about my job is meeting all the people. I love being in the heart of things; supporting and helping out where it's needed. "You can hear a smile over the phone" 😊
What is your personal "Learn More"?

My "Learn More" is to try to understand more of both Danish and Norwegian, as we have several employees from these countries.
I also want to be better at cooking good food from what is left in the fridge 😉