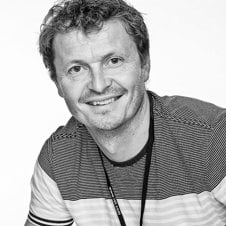 Åsmund Eriksen
Solution Manager – Product Management
Åsmund Eriksen
Solution Manager, Business region Norway
For how long have you been here?

I have been working at IST for just about 5 years now.
Tell us short about your background.
I have a degree in Literature, Religion and Greek mythology from the University of Tromsø – the world's northernmost University! Before joining IST, I worked about 15 years as a teacher and administrator at three different schools in Oslo.
Tell us what you like best about your job?

The best part of my job is without a doubt the people working at IST. I am surrounded by colleagues genuinely interested in creating the best possible working atmosphere, and the best possible solutions for our customers. It feels great to contribute to important functionality – we are not producing and selling selfie sticks!
What is your personal "Learn More"?

My personal Learn More is that I want to swim Horten – Moss – an open water swim across the Oslofjord.